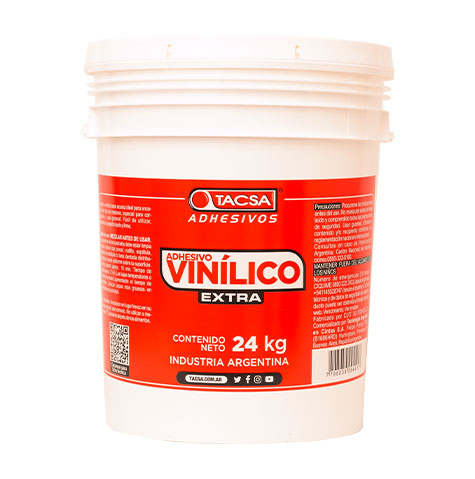 WATER-BASED VINYL ADHESIVE IDEAL FOR GLUING ALL TYPES OF WOOD, SPECIAL FOR CARPENTRY AND GENERAL USE. EASY TO USE, PROVIDES QUICK AND FIRM BONDING. RECOMMENDED FOR GLUING JOINTS, JOINTS, ASSEMBLY AND REPAIR OF FURNITURE, VENEERS, CHIPBOARDS, WOOD, CARDBOARD, PAPER, HDF (CHAPADUR), FABRICS, EXPANDED POLYSTYRENE, ASSEMBLY OF MODELS AND CRAFTS.
* Multipurpose, wood, carpentry.
* Unions, joints and reinforcement of assemblies.
* Assembly and repair of furniture.
* Handicrafts.
* Bonding of tongues and spikes.
* Glued formica to wood.
* Cardboard, paper, leather and fabric.

PRESENTATIONS
Pots
125g – 250g – 500g – 1kg
Buckets
6kg -24kg -220kg
Spouted bottles
200g – 800g