HIGH TEMPERATURE SILICONE SEALANT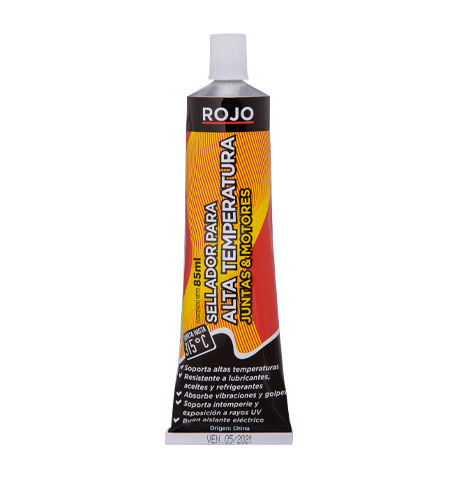 IT IS A SINGLE-COMPONENT, ELASTOMERIC SEALANT RESISTANT TO HIGH AND LOW TEMPERATURES, -54 TO 250 °C, AND PERIODS OF UP TO 315 °C; IT IS A GASKET FORMING COMPOUND IN MECHANICAL ASSEMBLIES. IT DISPLAYS REMARKABLE MECHANICAL AND PHYSICAL PROPERTIES, IT IS FLEXIBLE, RESISTANT TO LUBRICANTS, ATF, OILS AND COOLANTS. IT BUILDS GASKETS ON ENGINES, PARTS SUBJECTED TO EXTREME TEMPERATURES, SUCH AS: VALVE COVERS, CRANKCASES, TIMING COVERS, DIFFERENTIAL COVERS, HEATING UNIT SEALING, FURNACES, ETC.
General purpose. Engine gasket builder. It is resistant to high temperatures, such as: Valve covers, crankcases, timing covers, differential covers, heating unit sealing, furnaces, etc. Reinforcement for cylinder-head metal gaskets and for bundle of snake header gaskets. It is used in gearboxes, differentials, internal combustion engines, speed reducers, hydraulic and pneumatic equipment.

PRESENTATION
280 ml Tubes / 85 g Cartridges