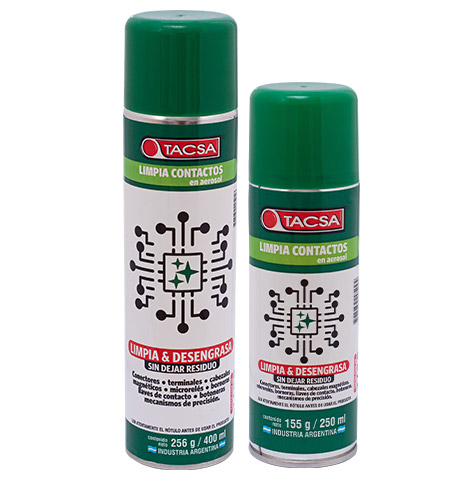 IT IS A HIGH PURITY SPRAY CONTACT CLEANER, ESPECIALLY DEVELOPED FOR CLEANING ELECTRICAL AND ELECTRONIC CIRCUITS. CLEANS AND PROTECTS ALL TYPES OF CONTACTS, PLATES, MAGNETIC HEADS, CONNECTORS, RELAYS, MOTHERBOARDS, TERMINALS, APPLIED TO AUDIO, COMPUTER, VIDEO, ELECTRO-CONTROL, ELECTROMEDICINE EQUIPMENT, ETC.
Recommended for cleaning motorized instruments, control panels, electrical equipment, motors and other electronic devices.
* In the car: electronic injection systems, battery terminals and coils, system circuits, installations and electrical panels.
* At home: microcomputers, telephone contacts, TV, radios and others.
* In industry: electrical and electronic contacts of machines and equipment in general.

PRESENTATIONS
Spray 155g / 250ml
Spray 256g / 400ml