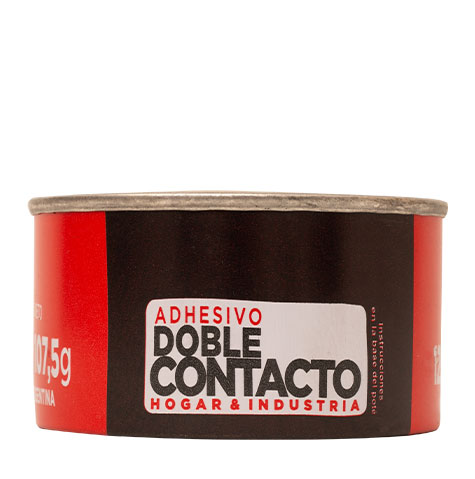 IT IS A SOLVENT-BASED DOUBLE-CONTACT ADHESIVE, FORMULATED WITH CHLOROPRENE SYNTHETIC RUBBER AND SPECIAL POLYMERS. IT IS WIDELY USED IN INDUSTRY AND HOME FOR GLUING CARPETS, SHOES, CARPENTRY, UPHOLSTERY, DECORATIVE COATINGS AND HANDICRAFTS. ADHERES TO A WIDE VARIETY OF SUBSTRATES SUCH AS RUBBER, LEATHER, WOOD, CORK, FABRICS, CARDBOARD, FORMICA, METAL, PLASTICS, SYNTHETIC FIBER, PLASTIC WALLS AND FLOORS.
* Bonding of tiles on vinyl floors.
* Decorative coatings and crafts.
* Ideal for joining all kinds of materials together such as plastic laminates, carpets, fabrics, corks, metals, leather and rubber or to wood, metal or plaster surfaces.
* Gluing and fixing of synthetic grass in sports areas.
* Fixation of PVC membranes based on concrete.
* Suitable for joining decorative plastic laminates with chipboard in furniture and countertops.
* Shoe composure.
* Upholstery.
* Carpets.

PRESENTATIONS
Cans
125 cm3 – 250 cm3 – 500 cm3 – 1l – 4l – 10l – 18l – 200l
Knob
50 cm3