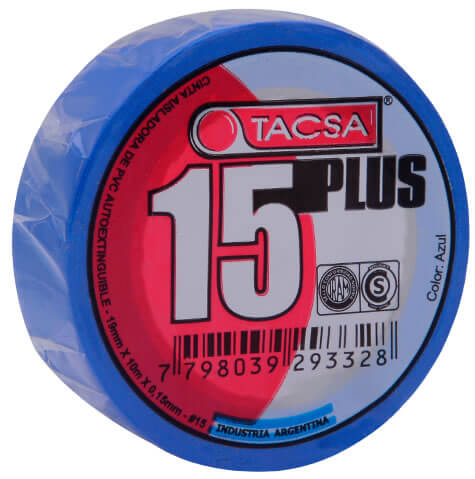 TACSA PVC INSULATION TAPE 15PLUS PRESENTS GOOD DIELECTRIC PROPERTIES, IS FLEXIBLE, STRETCHABLE AND RESILIENT; IT HAS GOOD ADHESION TO THE CABLE AND TO ITS REAR SIDE AND IT, THEREFORE, ADJUSTS TO CONNECTOR FLAWS. IT IS EASY TO CUT AND SELF-EXTINGUISHABLE, AS PER SAFETY STANDARDS.
General and domestic use. Internal and external insulations of up to 600 V. To insulate connectors, electrical wire or cable conductors. Cable identification (colors). Device manufacturing, repairs, electrical installations, to mask surfaces and protect them from inclement weather.

PRESENTATION
19mm X 5m
19mm X 10m
19mm X 20m
STANDARDS
IRAM-NM-60454-3-1 Certification
COLORS
Black, White, Green, Blue, Red, Yellow, Grey.

STRUCTURE
Adhesive
Fastening
PVC Film

ELECTRICAL SAFETY
Complies with Resolution SC N° 169/18